See us at the Hospitalar Meeting in Sao Paulo Brazil
4 Advantages of Networked Robotics' method of Direct Data Connections to High-End Instruments
Consistency
The Tempurity™ System stores and displays the same data values that are shown on the front panel of the instrument
Integration
Data from diverse instrumentation and brands is acquired via the network in a common way. For example, the remote network command to obtain temperature is the same for all instruments
Simplicity
The sensors that provide data are the ones chosen by the manufacturer to be optimum for the instrument. The inside of the instrument is free from "foreign" sensors.
Cost
Why pay to duplicate sensors that already exist in an instrument?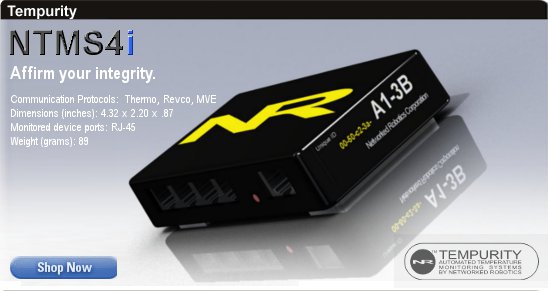 Use your Standard Computer Network to Collect and Monitor Temperature Voltage Humidity Co2 Oxygen Alarm Outputs and much more..

"Like"

our new Facebook page for news about Networked Robotics' hardware and software products, biotech storage links, quality and regulatory compliance links and public commentary.

"Follow" Networked Robotics on Twitter at @NetworkedRoboti (truncated NetworkedRobotics)

.
Read More Information:
About Network Temperature Monitoring | FDA Temperature Monitoring | Incubator Temperature |Freezer Temperature Monitoring Orbital Shaker Monitoring
Network Voltage Monitoring | Sample Management | HACCP Temperature Monitoring | NTMS Network Hardware| Network Data Collection
Networked Robotics Corporation, 825 Chicago Ave. Evanston IL 60202 Phone 877 FRZ-TEMP (877 379 8367)
Thermo Scientific®, Forma®, Revco®, Cryoplus®, Heraeus® are registered trademarks of Thermo Fisher ScientificChart Biomedical® is a registered trademark of Chart Industries.
©2014 Networked Robotics Corporation 2014 All Rights Reserved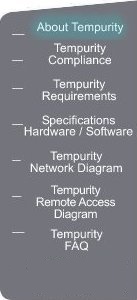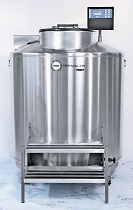 See our new direct interface to Chart Biomedical® MVE cryofreezers